Department 58 – International Relations
This department handles the conceptual activities and the entire operative agenda involved in the Ministry's tasks in relation to international institutions of which the Czech Republic is a member,...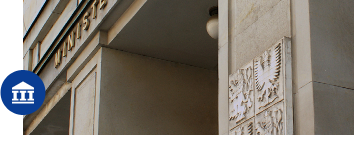 Department 58 systematically and operatively coordinates and analyses tasks and agenda of the Ministry towards international institutions of which the Czech Republic is a member, i.e. the IMF, WBG, EBRD, The International Bank for Economic Co-operation (IBEC), International Investment Bank (IIB), or in which it has observer status. It cooperates with other relevant departments in implementing the agenda of foreign economic, trade and financial relations. Within the framework of the Ministry, it oversees agenda related to bilateral relations of the Czech Republic with third countries outside the EU, foreign development cooperation agendas and coordinates the Ministry's activities as a co-manager of relations with international organizations such as the OECD, UN and their bodies and organizations. It formulates the overall concept for the EEA / Norway FM and the Swiss-Czech Cooperation Programmes. In this context, it oversees implementation, cooperation, financial flows, audits and monitoring, including evaluation of given programmes and projects. For these programs and projects, the department drafts basic strategic, legal and methodological documents. It supervises and approves awards of public contracts for projects within the Swiss-Czech Cooperation Programme and, at the same time, ensures monitoring of public contracts for projects within the EEA / Norway Financial Mechanism. It maintains a register of irregularities, reports the detected irregularities and ensures their rectification. Its activities in this area contribute to the administration and implementation of the EU Cohesion Fund, Twinning and TAIEX instruments and to the gradual closure of PHARE and Transition Facility programmes. The department collaborates with the Department of Strategic Corporations and Investment Incentives (Department 43) on agendas related to OECD Working Party on Export Credits and Credit Guarantees. It oversees administration and recovery of the Czech Republic's foreign receivables. It oversees activities of the Advisory Body for Foreign Claims and co-operates with relevant units of other state administration bodies in this area. Department 58 negotiates contracts with banks for services provided in connection with management of foreign receivables. It ensures fulfilment of agreements concluded between the Czech Republic and the Slovak Republic related to property division of the former Czech and Slovak Federative Republic in the area of government receivables and liabilities to foreign countries. It maintains records and, within the framework of statistical activities, processes internal and external product related to foreign claims of the state. In cooperation with the Ministry of Foreign Affairs, it drafts decrees which stipulate food allowances for business trips abroad.
Units
Unit 5801 – Foreign Aid Centre – Implementation, Monitoring and Evaluation
Unit 5802 – International Financial Cooperation and Foreign Claims
Unit 5803 – International Financial Institutions and Development Cooperation
Unit 5804 – Foreign Aid Centre – Preparation and Coordination
Unit 5805 – Central Financial and Contracting Unit